January Is Alzheimer's Awareness Month!
To mark Alzheimer's Awareness Month and to demonstrate our support to people and families affected by Alzheimer's disease, the Town of Beresford mayor, M. Edgar Aubé, accompanied by Mrs. Huguette Duguay First Link Coordinator at
Alzheimer Society of New Brunswick
and Mrs. Denise Boudreau, Émilienne Blanchard and Claudette Boudreau; all volunteers, raised the awareness flag on the courtesy flag pole of the Town of Beresford. The flag will flow there all of January.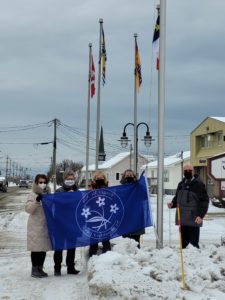 A diagnosis of dementia is not easy. Connecting to a community of support can make a big difference by eliminating uncertainty and unknowns. The Alzheimer Society can be the first link to that support to help you live well with dementia.
This month, help raise awareness for the support that's available for people living with dementia across Canada – learn more by visiting
www.alzheimer.ca/FirstLink