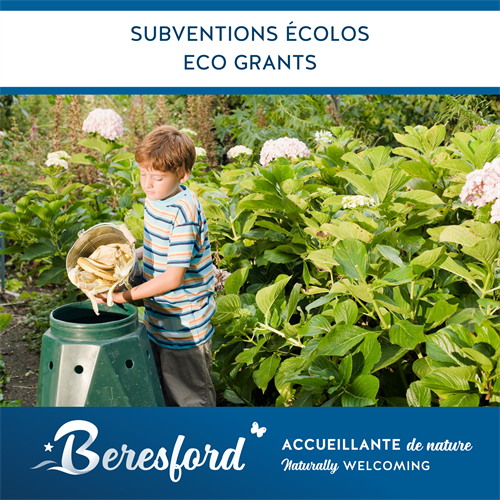 The Eco Grants program is an initiative of the Environment and Beautification Committee. The goal is to help Beresford citizens to adopt practices aimed at protecting our environment. This program provides financial support to our citizens who wish to obtain composters, digesters or even replace their toilets with low-flow models.
Compostable material, some call it putrescible material, is organic material of plant or animal origin that rots and decomposes. They include dead leaves, branches, lawn clippings, but also table scraps, fruit and vegetable peels, and even soiled paper napkins.
About 40% of all our waste can be composted at home. For a household that recovers its recyclable materials but has not yet started to compost its organic materials, this represents almost 60% of the contents of the trash. If you were surprised at how much weight your trash lost when you started recycling… imagine it when you start to compost your organics!
In addition to being good for our environment, composting our organic waste is good for our community's wallet. Indeed, organic materials composted at home do not have to be trucked and land-filled, reducing our greenhouse gas emissions while saving money.
To help you compost, the Town of Beresford offers you three programs, the green cone, the basic composter and the credit for a composter. See below for details.
The perfect complement to the traditional composter, the "Green Cone" digester allows you to compost all household food waste, including meat, fish and food products, without any odor. Digestion is the easiest composting technique to use. In fact, with the green cone, all you have to do is open the lid, put the kitchen scraps on it and then close the lid … that's it!
Food waste can be disposed of immediately.
The bins are kept clean.
The rest of the household waste is ready for recycling.
It is easy to install and maintain.
You can put meat, fish, bones, cheese, excrement, etc.
Requires no handling
Decomposed matter in the soil nourishes the roots of nearby plants
It can reduce up to 50% of household waste collected.
The Town of Beresford is offering you a green cone for a minimal cost of $ 29 + HST instead of the retail price of $ 114 + HST.
A green cone is available to citizens of Beresford who reside in their principal residence within the Town of Beresford.
To purchase a green cone, please visit the Beresford Town Hall during business hours (8:30 a.m. to noon and 1 p.m. to 4:30 p.m.) with proof of residence and cash toward the purchase.
More information on green cones is available here: https://www.compostec.ca/the-green-cone.html
RSC Chaleur employees can also answer your questions about installation and use at info@CSRChaleurRSC.ca or call (506) 725-2402 (888-820-5133).
The composter makes it possible to dispose of organic matter efficiently and, when done right, odourless!
Leftover fruits and vegetables
Coffee grinds
Egg shells
Grass (in moderation) and cuttings
Garden debris
Shredded newspaper
All of this will be turned into rich, clean compost ready to be used in your garden or on your lawn.
Composting will allow you to:
Remove organic debris from your trash, thereby reducing odors.
Will enrich your soil
Reduce the need for the purchase and use of chemical fertilizers
Reduces the collective cost of transport and waste treatment.
Decrease your water use since compost retains water.
If you are ready to compost, the Town of Beresford offers the following two options:
The basic composter, available at Beresford Town Hall at a subsidized cost of $29 + HST (regular $68 + HST).
2. Credit for a composter. This credit is for 50% of the purchase cost up to $50 and is valid for a composter purchased from a business in the Chaleur region.
A composter or credit is offered to citizens of Beresford whose primary residence is located within the Town of Beresford.
Please arrive at Beresford Town Hall during opening hours (8:30 a.m. to noon and 1:00 p.m. to 4:30 p.m. with proof of residence and your invoice for the composter purchased within the last two months or with cash to get a basic composter.
CSR employees can also answer your questions about installation and use at info@CSRChaleurRSC.ca or call (506) 725-2402 (888-820-5133).
Toilets represent up to 30% of the water consumed by households. This water consumption can be reduced by using a low-flow toilet. Indeed, these toilets consume 4.8 liters on average per flush versus 13 liters for traditional models, a water saving of over 60%!
To promote the adoption of such toilets, the Town of Beresford is offering a credit of $50 per toilet for a maximum of 2 toilets ($100) per residential property occupied by the owner. The toilets chosen must have a start of water per flush of less than 4.8 liters.
The purchased toilet must be used as a replacement for a standard toilet. The program is not eligible for the installation of a new toilet during the construction of a building.
To obtain this credit, please go to Beresford Town Hall during opening hours (8:30 a.m. to noon and 1:00 p.m. to 4:30 p.m.) with proof of residence and your receipt for your toilet purchased from a local Chaleur area merchant within the past two months. The receipt should clearly indicate the toilet model so that we can verify its water flow.