Chaleur Eat Fresh is a not-for-profit community initiative that aims to improve the health and well-being of residents of the Chaleur Region by providing fresh, quality and affordable fruits and vegetables.
Each month, this organization offers bags of fruits and vegetables for $15. These bags are available every 2nd Wednesday of the month and you must order your bag before the 1st Wednesday of each month. The contents of these bags vary but always include onions, potatoes and apples. Other foods vary from month to month but bananas, oranges and carrots are likely to be found very often.
For information on this organization or to find out how to order your grocery bag:
https://connectchaleur.ca/home/
The Chaleur Community Inclusion Network offers a home transportation service to seniors, low-income earners, families and students residing in the Chaleur and area communities.
For more information, contact the CTC:
https://www.facebook.com/RIC-Chaleur-CIN-346216009183373
transport@connectchaleur.ca or (506) 545- 0369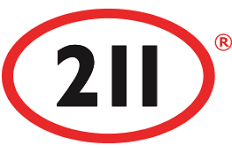 Do you know the 211 service?
211 is the primary source of information on non-clinical community and government health and social services in Canada. This free, confidential service is available 24 hours a day, in over 150 languages, by phone, chat, text message and website. 211 provides information and confident referrals to the services and resources that can help you.
Call 211 to find community services, such as:
Non-emergency police number

Food banks

Walk-in Clinic

Alzheimer Support

Help for mental health

Meals on wheels

Emergency shelters for the homeless

Services for victims of domestic violence

Public Health

Telehealth NB

Crisis Services

Provincial and local help line numbers

Settlement assistance for newcomers

Housing assistance centers

Walk-in program for youth

Counseling for children, youth and families

Emergency Assistance for Utilities

Understand what government service could help or assist

Disability Support Programs

Parenting Programs