The Town of Beresford's visual identity is comprised of three key elements- its official coat of arms, its logo and its flag.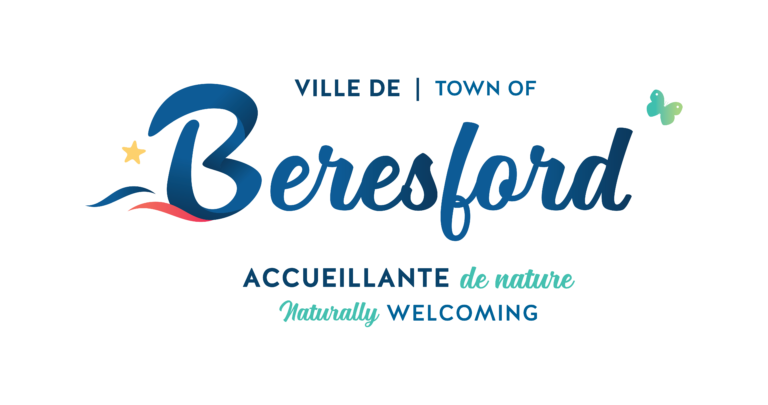 Our brand image includes a logo and slogan that has been developed in harmony with our territorial identity.
Our image is: STRONG – DISTINCTIVE – ATTRACTIVE – MODERN. It was conceived and designed in such a way to showcase a community that is:
• Accessible, open and welcoming fostering a peaceful and safe living environment.
• Proud of its culture, its francophone nature and its Acadian heritage.
• Harmonious with the extraordinary natural environment that surrounds it, on the shores of one of the most beautiful bays in the world.
Our new image includes the following elements:
• The star which reminds us of Acadie, evokes our connection with the Bay of Chaleur and that is also a symbol of excellence.
• The waves, blue and red as the Acadian flag, evoking a flag in the wind and conveying the dynamism of a community in movement.
• The butterfly, representing the maritime ringlet butterfly that calls our marsh home. It symbolizes liberty but also our proximity with nature, its fragility and our duty of preservation.
Our slogan:
Naturally Welcoming
Promotes a proud community, open and ready to welcome newcomers and tourists through a multitude of local services, infrastructure as well as the warm and authentic character of our citizens.
"I am proud of this new image; a community needs tools to promote itself and to affirm its identity and this new image meets those goals. In great numbers, our citizens participated in a number of surveys and this image is a product of their comments and thoughts about their town," said Jean Guy Grant, Mayor of the Town of Beresford at the time of the unveiling of the branding.
The town's flag was adopted in 1999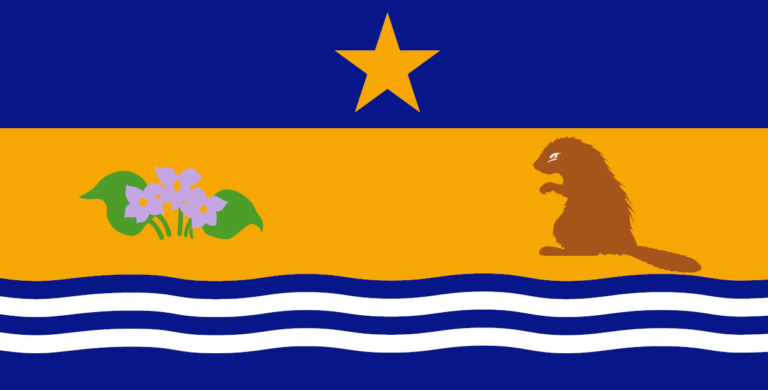 Description:
Cuculated Violet: Official flower of New Brunswick and reminding us of our connection to it.
Beaver: Symbol of hard work and belonging of the town of Beresford in Canada.
The Star: Symbol of Acadie
The waves: Our presence on the edge of the Bay of Chaleur.
The colour silver represents beauty and purity.
The gold colour represents justice and strength.
Azure blue represents loyalty.
The coat of arms of the Town of Beresford was designed by Mr. Robert Pichette and was accepted by the Office of the Registrar of Trademarks of Canada on May 8, 1985.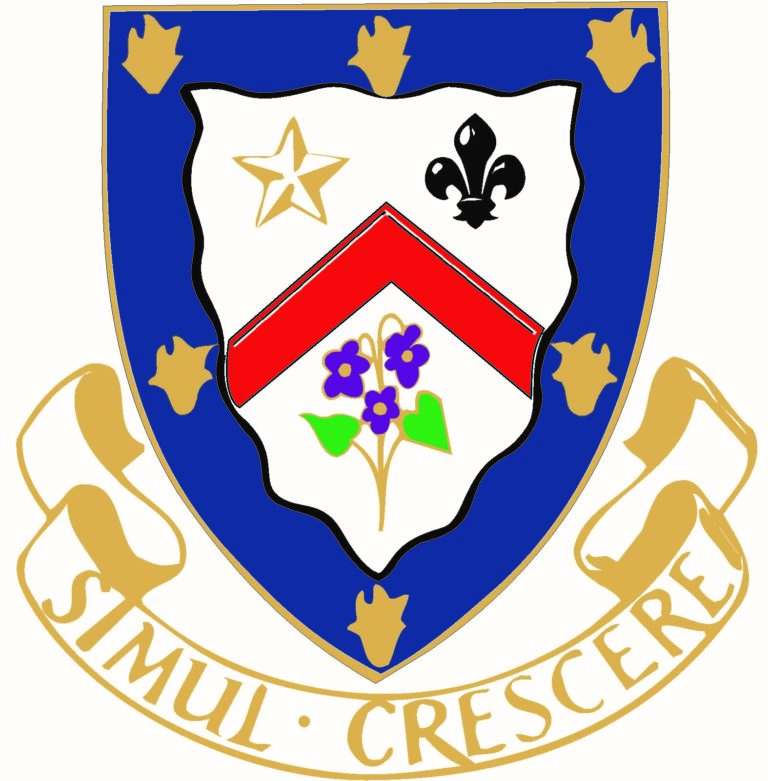 Description:
The Chevron: Heraldic piece that reminds us of a framework, used here to symbolize the domiciliary vocation of Beresford
The Star: Symbol of Acadie
The Fleur-de-lis : Symbolizes the French origin of the majority of the citizens of Beresford
The Cuculated Violet: Floral emblem of New Brunswick
The Wavy Border: Symbolizes the sea, therefore the geographical location of the municipality
The Flames: A symbolic reminder of the "Baie des Chaleurs"
Simul crescere: Latin motto meaning Growing Together