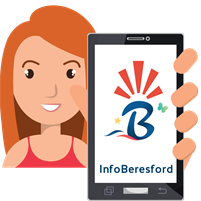 InfoBeresford is a tool that enables Beresford citizens to receive notifications by email, text message or voice messages regarding important upcoming events.
The following messages are currently being sent:
Emergency Measures – Registration required with the service (text, voice and email message)
Water and Sewage (text, voice and email message)
Public Services (text message, voice and email)
City cultural and recreational activities (email only)
Community newsletter – (email only)
How to register
To receive these alerts, interested parties must subscribe to the system by clicking SUBSCRIBE or by contacting the Town at (506) 542-2727.
It is also possible to unsubscribe at any time by using the link below or by contacting the Town.