Garbage Collection in Beresford
The collection of household garbage and recyclable materials takes place on every other Wednesday. de chaque semaine. See the collection schedule section for information on dates and types of collection.
Robichaud & Brideau, a privately owned company based in the region is presently responsible for the collection:
Robichaud & Brideau:
Phone: 1-888-678-7555
Cell : 506-394-7351
Kitchen waste and rubbish such as bottles and other food containers must be wrapped in dry paper bags or plastic bags and securely tied. These bags must not exceed one cubic meter or weigh more than 18 kg (40 lbs).
Paper and cardboard materials must be flattened and securely tied in a package.
Tree trimmings, hedge clippings and similar material must be cut in lengths not exceeding one meter and securely tied in bundles no more than one half meter thick.
Non-combustible material, broken and discarded household furnishings, waste material or rubbish left on premises following the construction, alteration, demolition, or repair of a building shall not be placed for collection but shall be disposed of by the owner as promptly as possible at his own expense.
Refuse containers shall not be placed for collection earlier than ten o'clock on the evening prior to the collection day; however, they must be placed at the edge of the street before seven o'clock in the morning on a collection day. All containers must be removed from the edge of the street within four hours of collection.
The garbage truck is equipped with an arm for easy dumping of garbage from special containers.
The collection of waste and recyclable materials takes place every other Wednesday in the town of Beresford.
You can download the Chaleur-Recyclables and Waste App to your smartphones. This app will allow you to view the collection calendar as well as receive notifications so you don't miss the collection day! Look for it on your smart phone.
Here is the collection schedule which is also available in hard copy at the municipal office.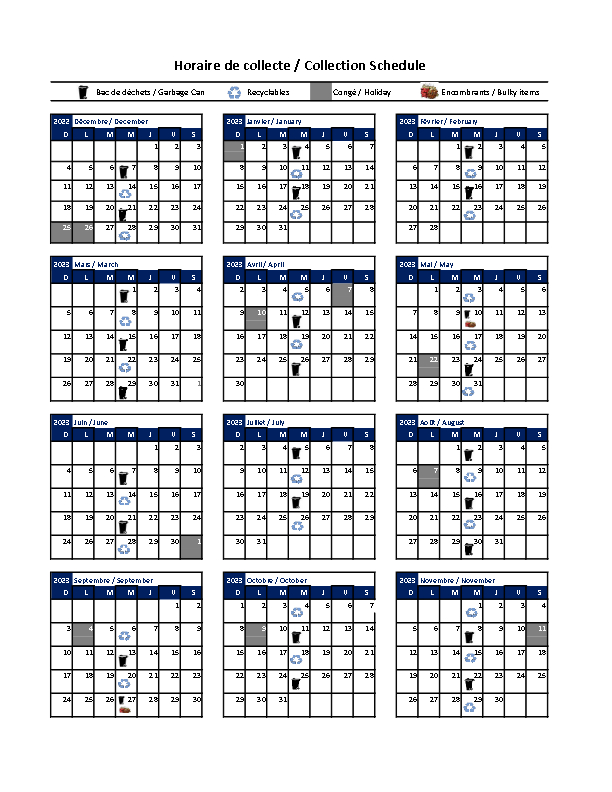 Collections of recyclable materials take place every two weeks in Beresford. Each resident is responsible for providing a blue bin and placing it on the roadside in preparation for collection.
MATERIALS ACCEPTED IN THE BLUE BIN
Rigid plastics (1, 2, 4, 5, 7)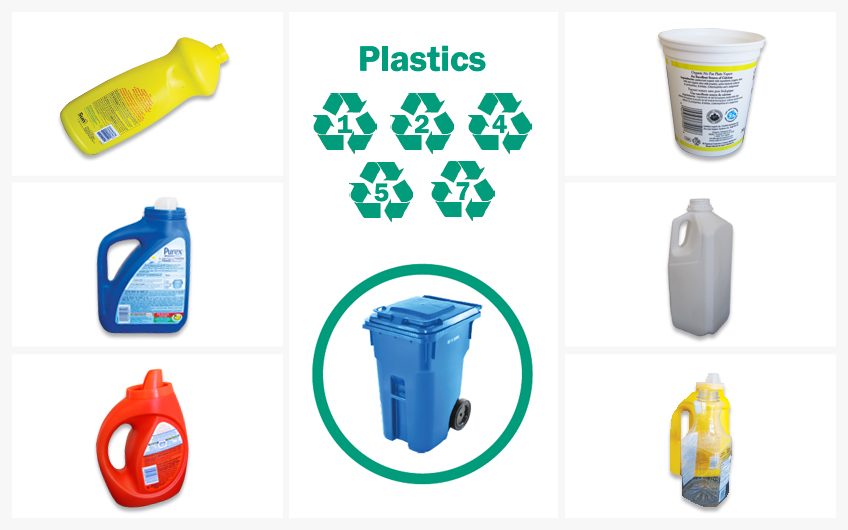 Examples:
Bottles of water, juice, oil and vinegar, etc.
Food containers and packaging
Laundry soap and bleach bottles
Dishwashing detergent bottles
Large containers of yogurt and ice cream
Bottles of ketchup, mustard and other condiments
Antifreeze containers
Plastic cans for milk
Medication containers
Containers for beauty, health and household products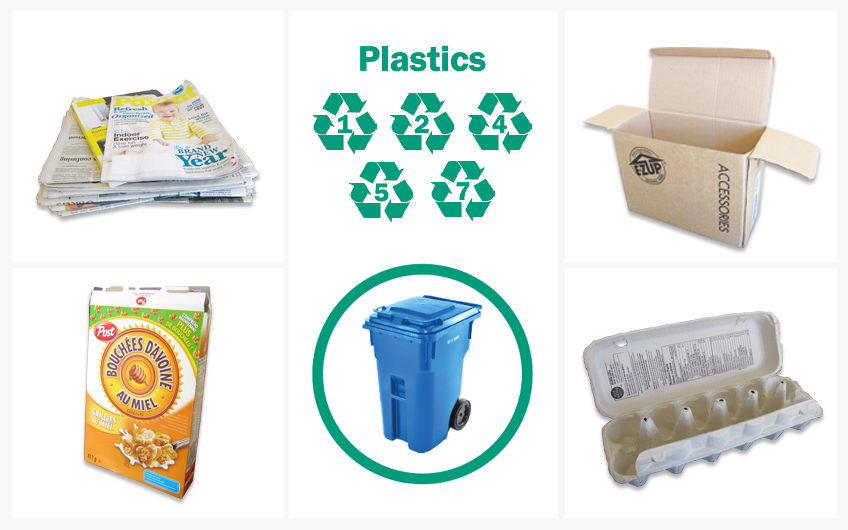 Examples:
Newspapers, magazines, circulars, catalogs, telephone directories
Office paper and envelopes (with or without windows)
File folders
Cereal boxes (without the bag inside)
Boxes of tissues (ex. Kleenex), frozen food, laundry detergent
Shoe boxes, cardboard tubes and rolls
Corrugated cardboard
Books with soft or hard covers
Posters, flyers, wrapping paper
Brown paper bags, egg cartons
Invoices, cash register receipts, lottery tickets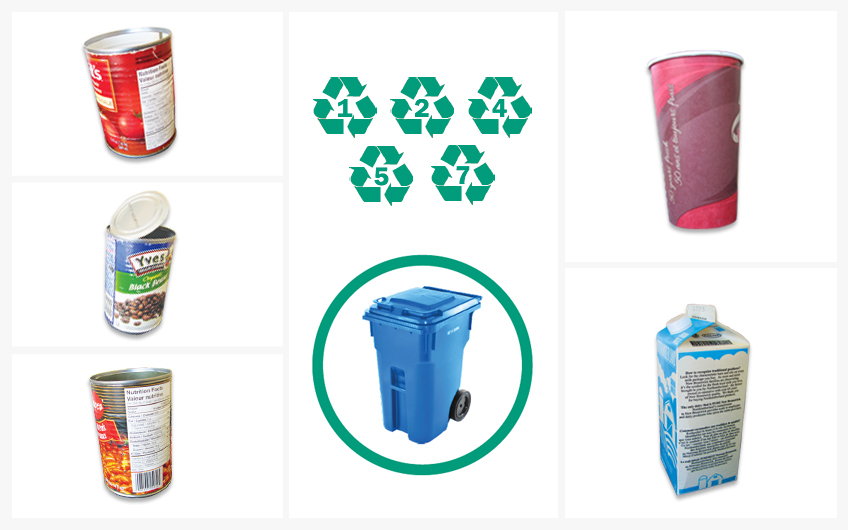 Examples:
Tin cans (with or without labels)
Aluminum plates, cans and containers
Clean aluminum foil (make a ball the size of a can)
Waxed cardboard and Tetra Pak
Examples:
Cartons of milk, cream, juice, etc.
Coffee cups (without plastic cover # 6)
Containers of almond milk, broth for soup, etc.
MATERIALS NOT ACCEPTED IN THE BLUE BIN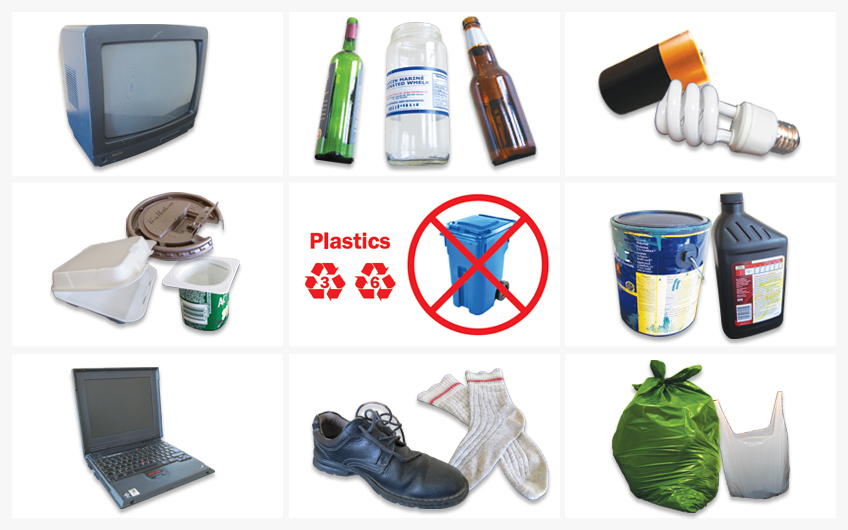 Examples:
Plastic containers and objects # 3 and # 6
Glass or window objects, crockery
Styrofoam (transport of electronic products, meat trays, cups, etc.)
Clothing and footwear
Computers, televisions, cell phones, and other old electronics
Hazardous waste (paint, oil, antifreeze, gasoline, cleaners, batteries, batteries, etc.)
Plastic bags (grocery bags, plastic wrap, canvas, tarp)
Garden hoses, extension cords, clothesline, rope
Construction materials (plumbing pipe, wood, windows, siding, etc.)
Objects made from different types of assembled materials (plastic and assembled metal)
Garbage, food, worn diapers, etc.
Bulky items, which some call "monsters", are large and heavy objects that cannot be put in the garbage bin (for example, appliances, furniture, hot water tanks). Before sending them for disposal, that is, sending them to the landfill site, our citizens can:
Check if a family member, friend or acquaintance wants it;
If it is in good condition, donate it to a community organization;
Contact a junkyard for metal objects.
A collection of bulky items is organized twice a year, it is forbidden to place them on the roadside during the regular bi-weekly collections.
You can consult the collection schedule or consult the Chaleur-Recyclables and Waste App to find out when the curbside bulky refuse pick-up will occur.
Acceptable Items on the Roadside
Household appliances, furniture, mattresses, wood, branches and brush, etc. are accepted during bulky items' collections. With the exception of large items, garbage should be placed in boxes, garbage bags or tied up in bundles not exceeding 50 pounds and/or four feet in length. Broken glass and sharp objects (sharp, sharp) should be packaged carefully to avoid injury.
Unacceptable Items on the Roadside
Construction waste, large trees, automobiles, snowmobiles, rocks, gravel, sand, manure, animal carcasses, gas tanks, propane tanks, tires, as well as garbage dangerous goods are not accepted during the bulky items collection.
Keeping the Roads Clean
If you bring your refuse to the Red Pine solid waste management site in Allardville, please make sure that the load is properly secured and covered to help keep the roads free of garbage.
Household Hazardous Waste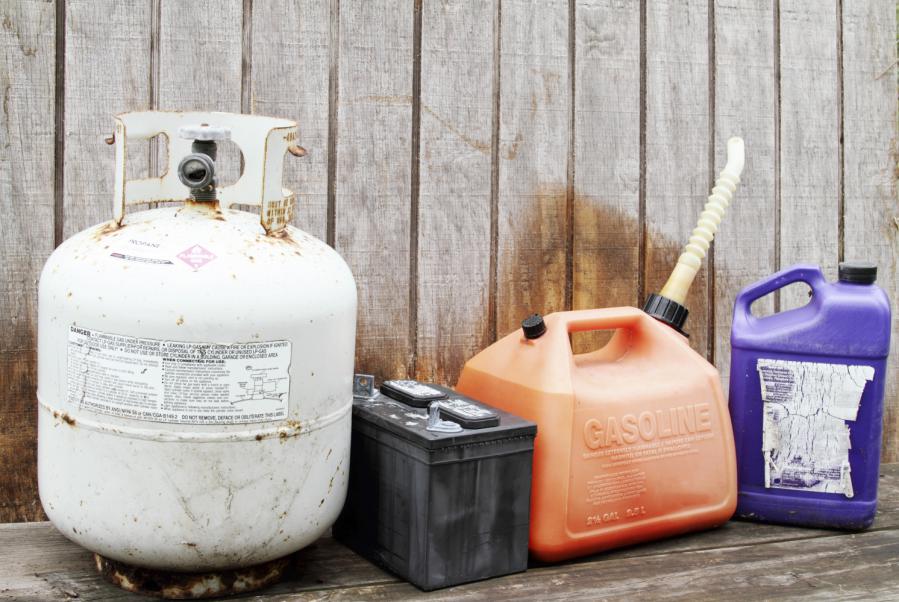 Since 2006, the Chaleur Regional Service Commission (RSC) has accepted household hazardous waste (HHW) from our citizens at the Red Pine residual materials management site. HHW collections are also organized in the community.
Participation in these events are free! Under this program, we accept all chemicals from the residential sector, except explosives, radioactive materials, organic peroxides, PCBs, biomedical waste, and commercial or industrial substances.
You can consult the collection schedule to find out when these collections are organized.
Here are some examples of products commonly accepted during fundraising in our communities:
Paints, stains, varnishes, sealants
Waste oil, antifreeze, gasoline, diesel, kerosene
Solvents (e.g., Varsol), cleaning agents
Propane tanks, butane cartridges, lighters
Soaps, shampoos, drugs
Fertilizers, pesticides, pest control products
Fluorescent tubes, compact fluorescent bulbs
Automotive batteries, batteries
Aerosol cans
Bleach, floor wax, glues
• Pool products, car care products
Other products used at home …
If you have any questions or comments regarding this program, we invite you to contact RSC Chaleur via email at info@CSRChaleurRSC.ca or by phone at (506) 725-2402.
Compostable material, some call it putrescible material, is organic material of plant or animal origin that rots and decomposes. They include dead leaves, branches, lawn clippings, but also table scraps, fruit and vegetable peels, and even soiled paper napkins.
Toilets represent up to 30% of the water consumed by households. This water consumption can be reduced by using a low-flow toilet. Indeed, these toilets consume 4.8 liters on average per flush versus 13 liters for traditional models, a water saving of over 60%!
To promote the adoption of such toilets, the Town of Beresford is offering a credit of $50 per toilet for a maximum of 2 toilets ($100) per residential property occupied by the owner. The toilets chosen must have a start of water per flush of less than 4.8 liters.
The purchased toilet must be used as a replacement for a standard toilet. The program is not eligible for the installation of a new toilet during the construction of a building.
To obtain this credit, please go to Beresford Town Hall during opening hours (8:30 a.m. to noon and 1:00 p.m. to 4:30 p.m.) with proof of residence and your receipt for your toilet purchased from a local Chaleur area merchant within the past two months. The receipt should clearly indicate the toilet model so that we can verify its water flow.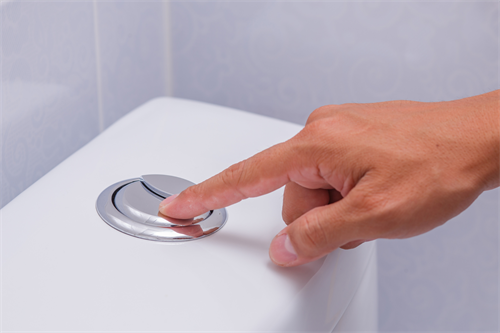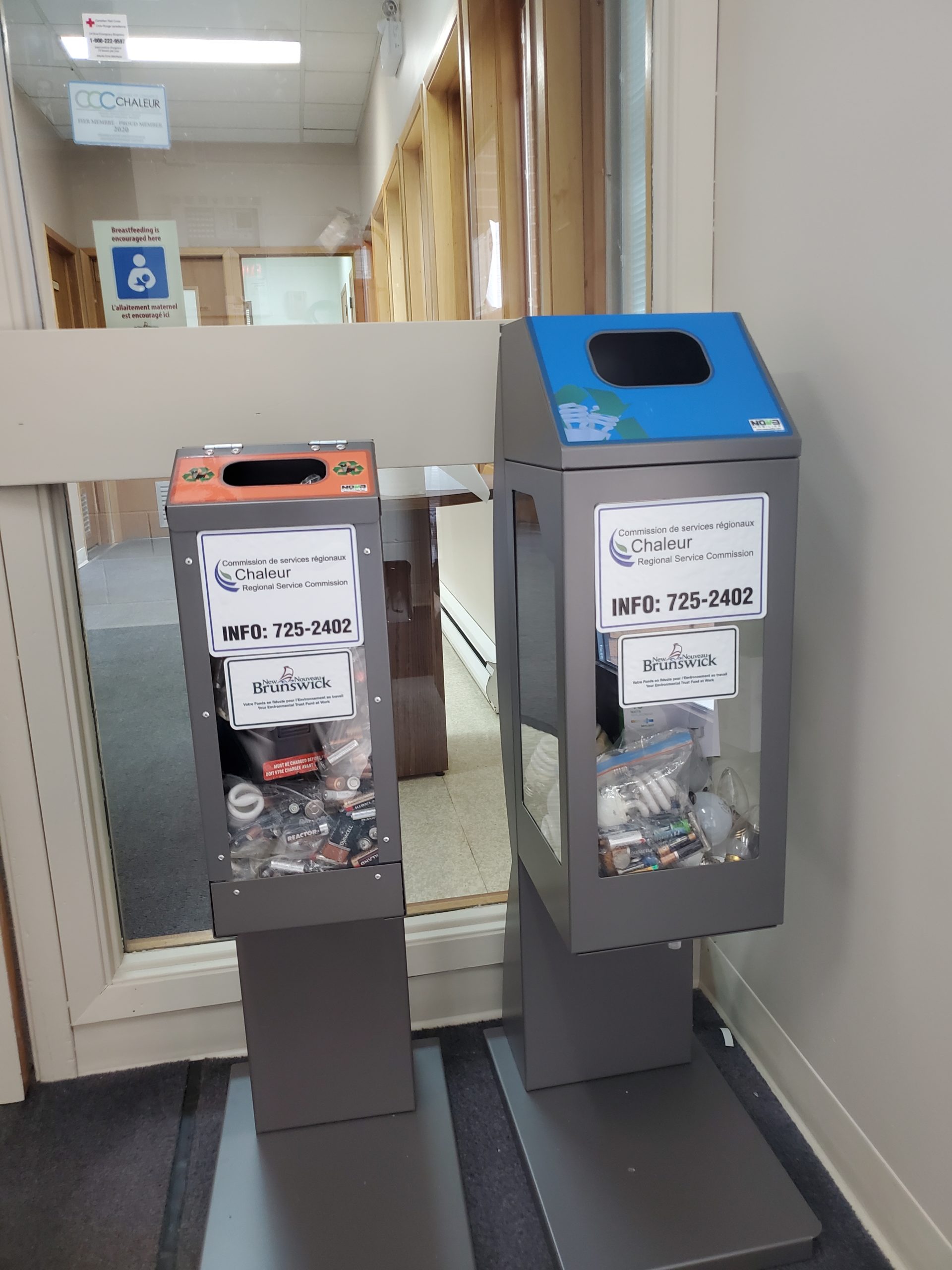 Cells (dry batteries) contain various metals and other compounds which can end up in the environment if they are not properly disposed of. To prevent toxic substances such as cadmium, mercury, lead, and nickel from entering the environment, you are encouraged to drop off your batteries at one of the collection sites where they are later sent to a company that specializes in their recycling.
As a result, our citizens can put their compact fluorescent light bulbs, the energy-efficient spiral-shaped bulbs, in the appropriate bin. CFLs contain mercury, a toxic heavy metal, which can be hazardous at very low concentrations in terrestrial and aquatic ecosystems. Mercury can accumulate in living organisms, which can lead to increasing toxicity in species such as predatory fish, birds and mammals, including humans, that feed on fish (Environment Canada 2010). Mercury can therefore have an impact on ecosystems and their biodiversity, but also on human health.
You can put your batteries and compact fluorescent bulbs in the following places:
Municipal Building
Épicerie Frenette